Special offer for ECA members!
As an ECA member, you are eligible to purchase the ElectricalOM ECA Members Bundle. With this exclusive offer you will be entitled to a 20% discount off the current retail price until 31st December 2021 and 15% afterwards.
ElectricalOM Professional ECA Members Bundle details
ElectricalOM Professional (Retail price £910)
CAD Plan design Add-on (Retail price £420)
UK Forms Add-on (Retail price £195)
MobileEOM app included
Priority support included at the price of Basic support
ElectricalOM Professional ECA Members Bundle: £1220 (Retail price £1525) *
Support/Updates Annual renewal price: £275 *

Purchase ElectricalOM Professional ECA Members Bundle Now!

For any information please contact us
or visit the ECA website



* VAT not included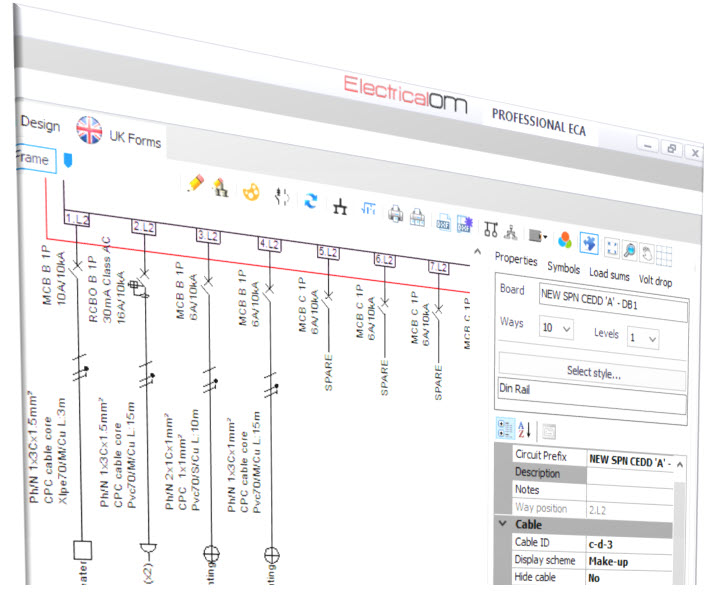 ElectricalOM Technical statement by ECA


Electrical installation design is becoming more complex than ever, different products, more liability placed on the designer and more scrutiny on safety issues.

Using ElectricalOM helps Members achieve compliance with BS 7671 and far more. Certification, CAD, arc flash analysis and much more all in one package means that whether you are undertaking simple single circuit calculations or in-depth and complex designs, ElectricalOM is a truly universal package that is BIM compliant and populated with thousands of pieces of manufacturers specific data.

Using ElectricalOM not only ensures that you have met the requirements for BS 7671, but it also helps to ensure your business is efficient, productive and above all, technically correct.
Gary Parker
Technical Manager, ECA