Toolbar
The toolbar has both common buttons like Apply changes, Cancel, Print, and Extract, and module specific buttons and drop down lists.
Apply changes

will apply the changes made by the user so ElectricalOM will finalise the calculations and check according to new settings.

Cancel

will revert back the changes done by the user to its previous state.

Print

button will initialise the print preview screen. This will create a minimum of a two page document which the first page contains the graphs are and the single line diagram area, and the following pages contain any protective device settings if applicable. The user may chose to print the document by using the

Print

button, or to export the document to a PDF file by using the

Export to Pdf

button.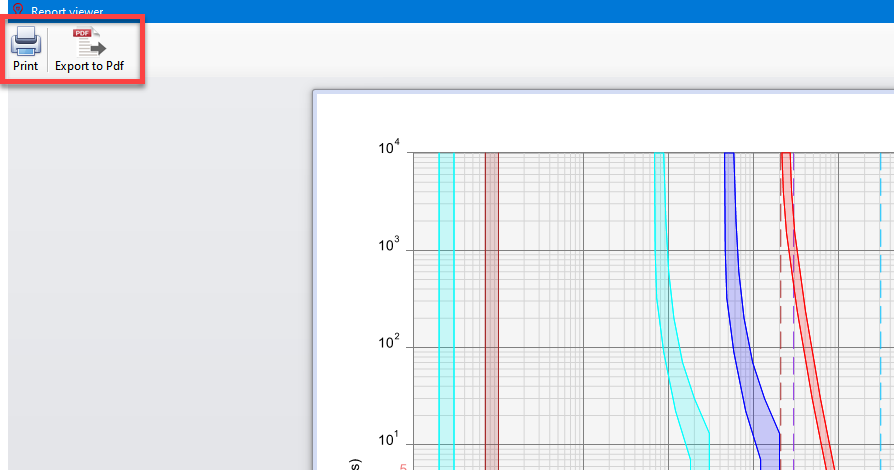 Extract

button lets the user to export the contents of the graphs area and the single line diagram area into a CAD format. The pdf option within

Extract

context is not the same as the

Export to Pdf

the latter being a picture format rather than a CAD based drawing.

Show/Hide Device Settings Grips:

If a protective device, which settings are adjustable, is selected, then, various diamond shaped grip point will be displayed on the related curve to represent the adjustable values of the protective device. The use can use these grip points to manipulate the related setting by simply by holding left mouse button depressed and moving the grip point. Allowed position which correspond to allowed values will be highlighted by ElectricalOM with green colour when the grip point is selected. It is also need pointing out that these grips will only available on the Time vs Current graph, see below.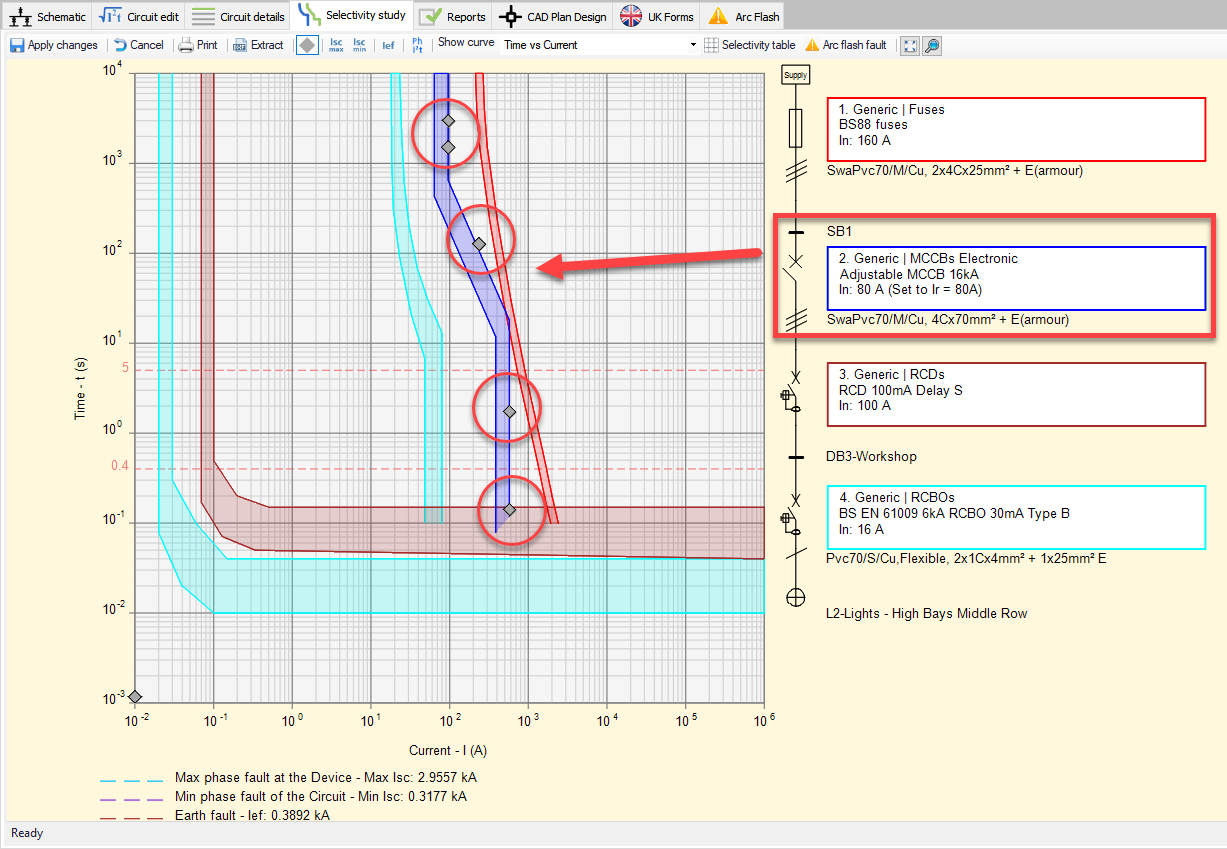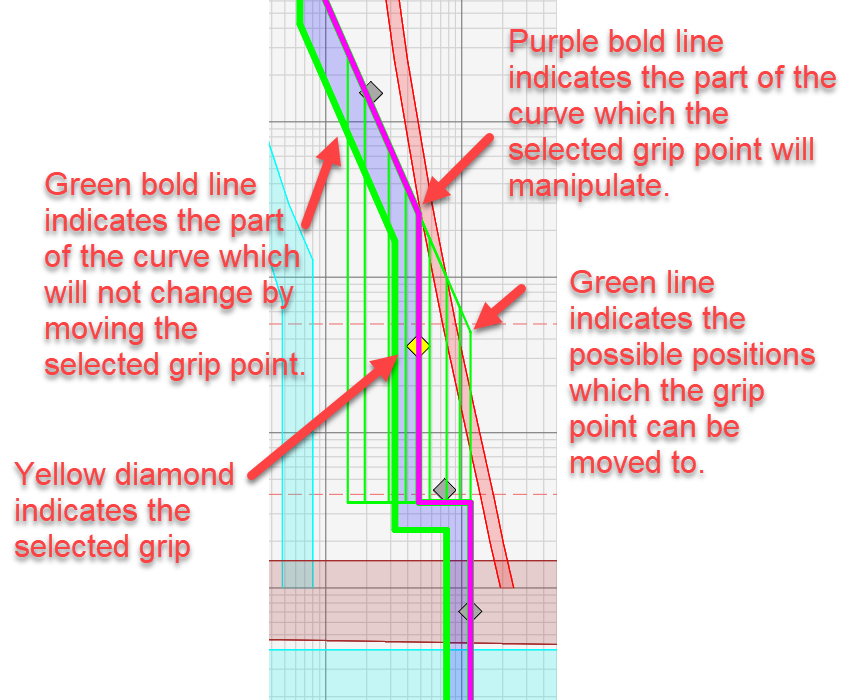 maxIsc/minIsc/Ief/Phase conductor withstand energy

: These buttons will show or hide the corresponding values on the graph with dashed lines. They are colour coded and a legend is available under the graph to describe used colours and the corresponding line together with corresponding values.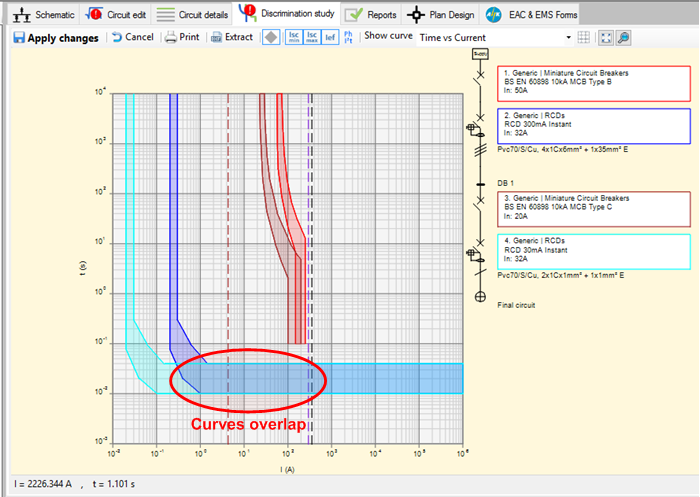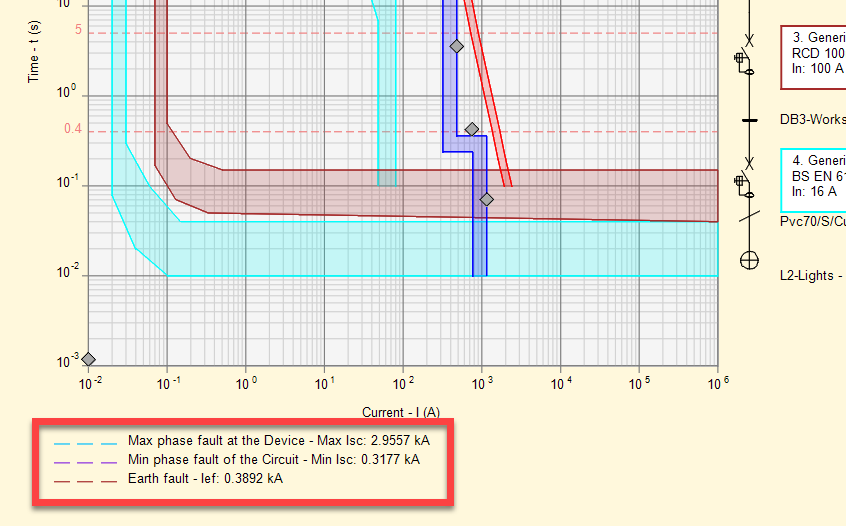 Show curve

drop down list is used to select which graph will be shown in the graphs area. There are three graph options available:

Selectivity table

button, see

Selectivity table

section.

Arc Flash fault

button, see

Arc Flash Tab

section.

Zoom to extends

button will zoom in or out to fit the graphs and the single time diagram to the screen.

Zoom

button will let the user to select the area to zoom in. In order to use the function, the user need to click on this button and then select an area from the graph or single line diagram area by clicking the left mouse button within the area and dragging the mouse cursor to select the region and clicking again with the left mouse button.