Edit the Main Supply
To edit the Main Supply, simply double click on it from the tree view, or select edit from the design menu, brought up by right clicking on the supply node, as shown below:
With the supply editor the user can set all of the properties of the installation up to the origin. These include the phase voltage, the earthing system and earthing arrangements, the supply frequency, the supplier's transformer rating, prospective fault current and external impedances, voltage drop settings, premises settings and touch voltage limit and other information specific to the supplier.
In our example we will set the values as shown below. Press OK to accept the changes.
Type: Public supply (1)
Voltage: 400V/230V (2) , 50Hz (4)
Earthing system: TN-C-S (3)
Source rating: 500kVA with source impedance Z: 6% (6)
Supply cable up to the origin of the installation: (7) and press "Set..." (8) to set the extra cable values.
Up to the building:

Al - Multicore XLPE 90oC armoured, length: 20m, cross sectional area: 16mm

2

, installed underground

Up to the meter:

Al - Multicore XLPE 90oC armoured, length: 10m, cross sectional area: 16mm

2

, installed on a surface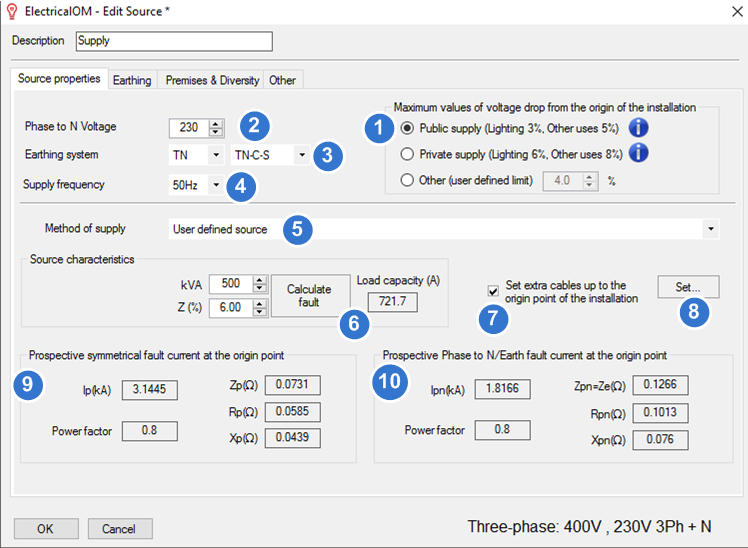 The resulted prospective symmetrical fault current at the origin is presented in 9 and prospective phase to N/Earth fault in 10. These values can be manually set if the user chooses not to set the extra cable up to the origin point of the installation (7)